Music Recommendation of the Week

This week I am recommending two artists: Q Project and the duo Eleventh Sun.
Bio:
Renaissance Man
Q-Project
has been causing quite a ruckus in the world of drum & bass. A man of porn and Porches,
Q-Project
is responsible for some big d+b anthems having rolled out big jams for the likes of Bingo, Liquid V, his own CIA imprint and of course Hospital in the past.
In spring 2005 Oxford resident Quiff pledged allegiance to the NHS flag, 2 huge EPs later
Computer Love
and
Hello, My Name is Q-Project
won pride of place in the sets of Fabio and Grooverider, Zinc, Hype and Andy C.
Q-Project
followed this with a glimpse into the weekend world of
Q-Project
with his mighty Album
Renaissance Man
. Oxford's very own "Uber Caner" now saw his "Man Music" pumping out of function one systems and Porsche boots all over the world.
In 2008, with the economic downturn and payments on the boxster due every month, things came down to the crunch. Responding in typical buoyant fashion, the awesome
Credit Crunch EP
dropped in late 2008, smashing any fragile economy in it's path and once again affirming Quiff's champion D+B sound...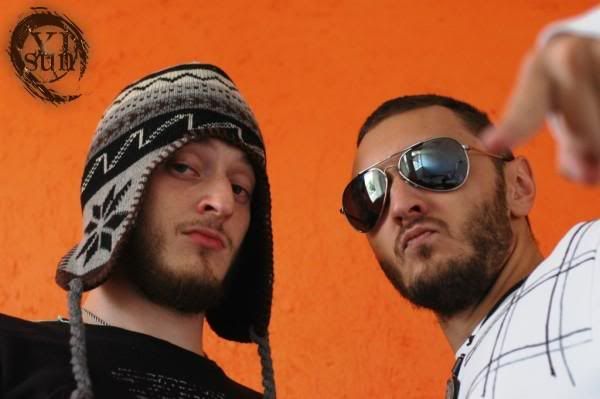 Bio:
You can hear it can't you? Clean dark medieval sound that once was lost and is coming back in the souls and expression of the Eleventh Sun. You can feel it can't you; ripping inside of you telling you that you need more of this shaded signal. You can see it can't you? The darkness shows you the truth; that the light hides when darkness comes; telling you that there will be more to come, more to hear, more to see.
What Darkness Hides: The Eleventh Sun, hailing out of Toronto, have been quietly setting the Neurofunk world on fire. From pounding Nu-skool breaks to rolling minimalist drops, combined with pure dance floor energy driven by dirty basslines and crisp cutting beats. Make no mistake the sound of the future is here! With releases on Close 2 Death (Kill Them EP – UK), Melting Pot (So Blind EP – Spain / France) and their very own ALTOSYNC (Everybody Bleeds The Same EP – Canada) label, as well as playing shows in Mexico city and a UK tour in the coming year, The Eleventh Sun is fast becoming a force of Drum N Bass.
If you love drum in bass, I think you'll really dig this!